Mortgage Website Templates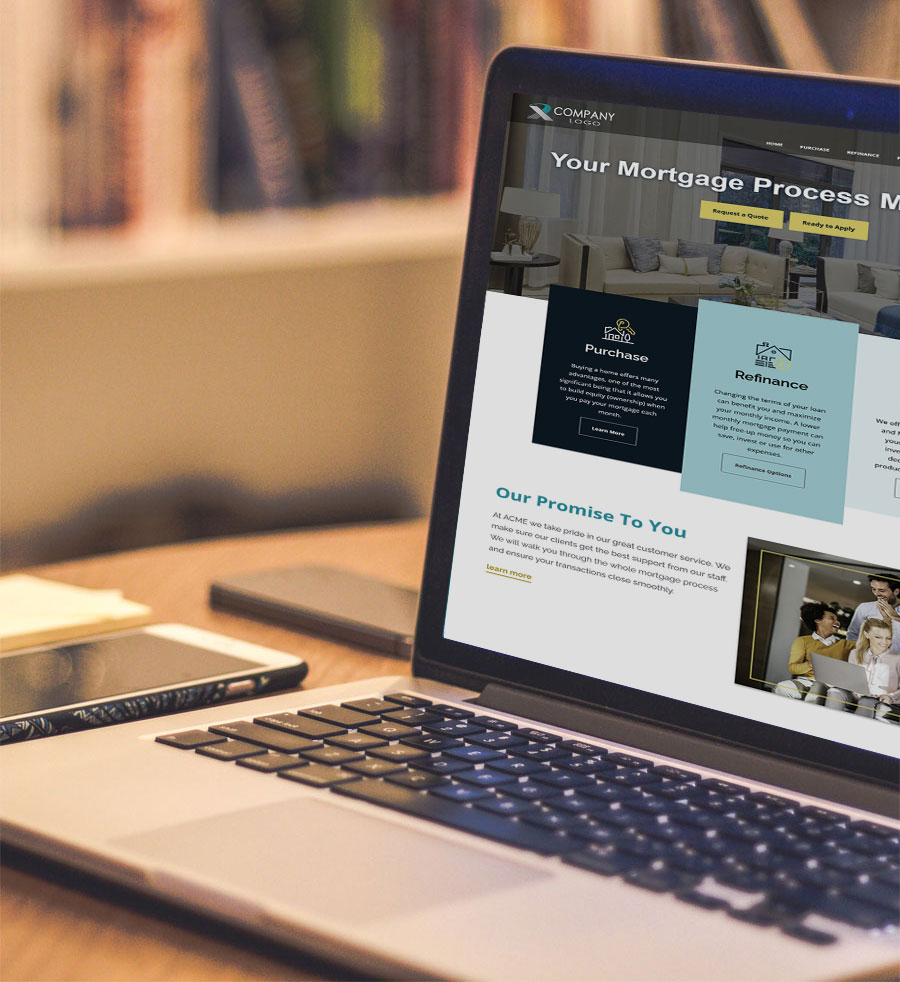 Mortgage Website Templates
Mortgage Websites That Actually Do Something
---
Welcome to MTGweb, we are a web development company offering the best mortgage websites and loan officer website templates. Our goal has always been to offer websites and landing pages that convert visitors into customers. How do we do this? We constantly look at what mortagage industry leaders are doing. Why do we do this? Because we know those companies spend a lot of money driving traffic to their websites. Of course, they don't want that money going down the drain, so they do a lot of research figuring out the best way to convert those visitors to calls and lead forms being filled out. They need that to happen so that they can reach the ultimate goal, converting those visitors to customers. So what are they doing differently? They offer more then just a static website with text and information on it. Their websites are dynamic and visitors are presented with lead capture forms that lure them in. The best ones go a step further and offer more of an incentive to take the bait by offering them the opportunity to see how much that new homes they fell in love with is going to cost them. Visitors may be fine with only seeing information if they are on Wikipedia, but if they are on a mortgage website, they most likely want to see rates and monthly costs. That is why we are pleased to offer our Rate Pro mortgage sites that show information just like the industry leaders do. Of course, we realize some of our clients have reasons to not display rate information. Regardless, if you choose to go with one of our class leading Rate Pro mortgage templates or choose to have a site that doesn't show that information, all of our mortgage broker sites offer superior conversion for capturing visitor information! The Rate Pros just offer an extra incentive to interact with the site.
See Mortgage Website Templates and Pricing
Mortgage Website Add-On Rate Pricing Widget for Existing Websites
---
See how our brand new Mortgage Website Rate Widget can help mortgage brokers, loan officers or a mortgage company add live mortgage rate pricing to their existing websites. With our rate widget, your visitors will be able to see monthly payment amounts, rates and closing costs. Our rate engine updates rates throughout the day, so your site is always showing current pricing information. We have rates setup with some of the leading wholesale lenders. So if you have a good web presence and are looking to add technology to take your website to another level, you've came to the right place. See a live demo of our Mortgage Rate Widget now.
See Mortgage Rate Widget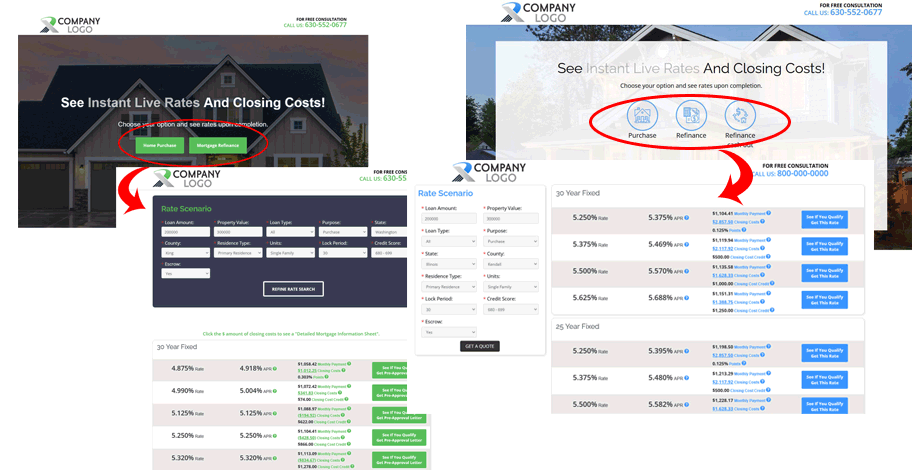 Rate Add-On Tool for Existing Website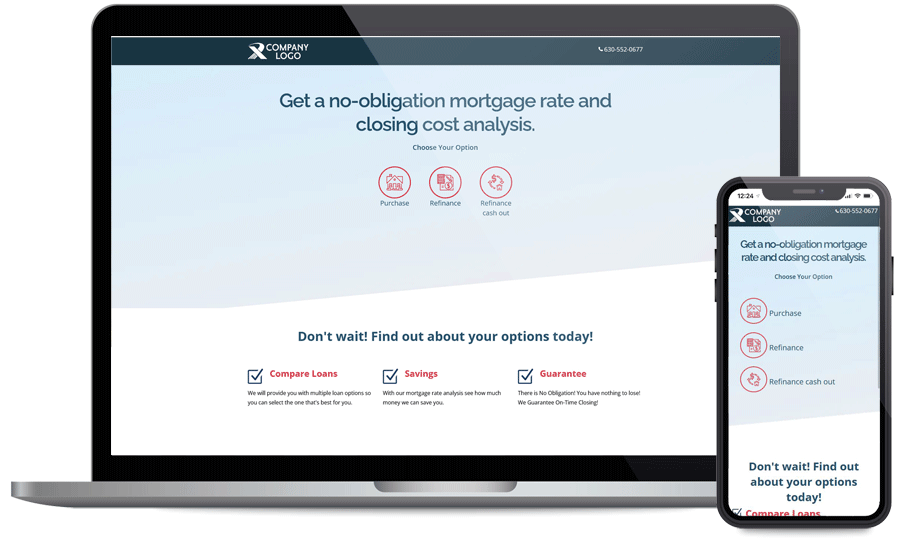 Mortgage Landing Pages
Mortgage Landing Pages that Convert Visitors to Leads
---
Mortgage landing pages do a better job at converting visitors to leads then your websites home page. Anyone in the mortgage industry that has taken a stab at a marketing and/or an advertising campaign for their mortgage business knows it's not easy. Well, I shouldn't say that, because it's real easy to setup a campaign and burn through a lot of money with little return. Of course, that's not what you want to do. Unfortunately, there are a lot of companies looking for mortgage business and leads like you are. So it's going to take a well thought out plan to generate traffic and phone calls. It also has to be cost effective. In order for the advertising campaign to be successful, every aspect of it has to be executed to near perfection.
Most advertising and marketing strategies in the mortagage business involve the use of landing pages designed specifically for the advertising campaign. This would be any campaign that has potential clients visiting a web URL. You might have a radio program that mentions your website address or a Google Adwords Campaign that potential clients click that has them directed to your landing page. One aspect that is essential is for the landing page to correspond to the advertising campaign. Let me explain.
The three components of a successful mortgage advertising campaign:

Getting potential customers to take notice of your mortgage company

getting the potential leads to take action



Converting Website visitors into customers


Like Our Websites, Our Customer Service is Different
Small family-owned business
We've had the same core people since the beginning in 2002. That means you will be working with the same people so that your time is spent productively, not constantly getting new staff members up to speed.
---
Customer Service Is Our Priority
When it comes to customer service, we all have the same philosophy here. That is to give people the service that we like to receive ourselves from businesses we do business with. You can call us, email us or fill out a contact form on our website. If you call us, we won't tell you we can't do anything for you until you fill out a support ticket.
---
No complex answering service
While most companies do everything to avoid talking to you on the phone, we encourage it. You can call us anytime during business hours and there is a high probability we will pick up. We don't have a complex labyrinth of numbers to hit to get someone live on the phone.
We take care of you. How do we do this?
Well, we used to have an admin area where our clients could make minor text changes and add additional pages to the website etc. However, we ultimately did away with it and now have our designers take care of changes and updates. Here is an example of why we decided to do this. A client calls and says they want to add a page about reverse mortgages. In the past I would tell them "sure, just login to your admin area and you can add the page and text". But in most instances the client would tell us "I don't have time or the desire to learn how to add a page, can you just do it"? Of course, we wanted to take care of our clients, so we did it for them. Unfortunately our designers had to make the changes using the limited backend designed for mortgage professionals. Not to mention that after a mortgage broker played with their site for an hour, making the phone number red and huge to stand out etc., the site started to lose the polished look of being professionally designed. We eventually decided that our web design team should make changes and updates. After all, we are the web designers and that's why you hired us.
We do not raise monthly costs to existing clients unless you add or upgrade services.
We try to take care of all your website needs and our goal is to not charge you extra for it. We are not one of those companies that nickels and dimes you to death for every little thing that is needed.
Here is another example of how our customer service is different. Lets say you want to cancel your service with us. We don't make it difficult. All you need to do is call and say that you no longer need our services. A typical response of ours would be "we will certainly miss having you as a customer, but let me check on a couple of things. Well, It looks like your site's monthly maintenance just went through yesterday for next month. I'll get that credited for you". We won't interrogate you on why you're leaving or since you are, treat you less than a current customer. Also, we won't make you jump through any hoops. Again, our customer service is geared to how we like to be treated. Our service has always been month to month. We want you to be a customer because of our service and you enjoy being a customer, not because of a long term agreement.
What Clients Say About Us


Thanks Eva! I should mention that it is always a pleasure doing business with you. You are always cheerful and extremely easy to deal with. You always solve my problems with minimal effort and make dealing with MTG web a great experience. Thanks for all that you do!
I would like to take this opportunity to thank you for the fine service. You have been extraordinary in your follow up and professionalism and have clearly gone the extra mile each and every time. We are certainly not your biggest account, as we are a very young company, but you would never know it by the way you and your people have treated us. Not once have you "nickel & deemed" us for changes and alterations to the site, which in this day and age is very unusual. Honestly Frank, you should be charging 3 or 4 times your current price for the web site. It would still be worth every penny. I am happy to recommend your firm to anyone in the mortgage industry.
Just wanted to thank you for creating an awesome website... we've had great feedback already and you did exactly what I wanted, especially on the "distributor chat" and "investors only" section. I really appreciate the work you did. I will definitely pass on your name to others. Thanks again,
I am passionate about the people, services and products I believe in, and your company is one of them so its easy to refer business to you. Thanks for looking out for us as well! I really appreciate you!
I just want to send you a letter of thanks. I can't tell you how impressed I am with you and your staff. You delivered a high quality template at a very affordable price. I was already completely happy with your work ethic but you continue to impress me with your quick responses and your ability to envision what I am trying to describe and put it into action on my site.
We just wanted to say THANK YOU again to you and all of your amazing staff for all your help!
FYI I am very happy with your service. Both of you have been very helpful and pro active and it's nice to do business with professionals. Thank you once again!
I wanted to take a moment and recognize your company for the great job you have done with my company's website design, and also to let you know that Eva your designer has been nothing but pure pleasure to work with. I will definitely use your company for my future endeavors and will be recommending your services highly.
Dear Eva: Thank you for your assistance. It has truly been a pleasure working with your group. We are delighted to with our website and your support. From first hand experience, I can say your competition needs to take lessons from you!!